Want Better Sleep?
After 7 years of struggling to find a sleeping mask that worked well, we stopped searching and invented OwlzzZ Sleep Mask…
We Believe a Great Sleep Mask Is: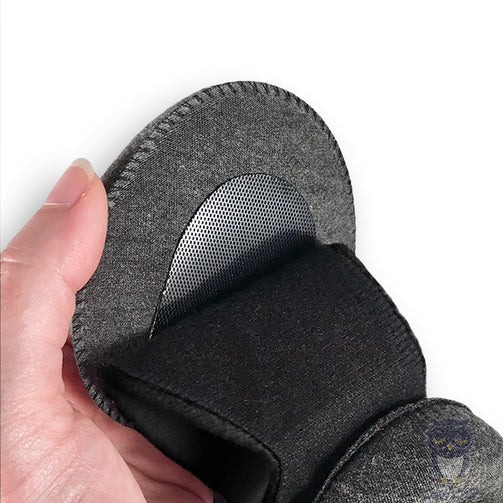 100% Blackout
Get a total blackout with OwlzzZ' infinitely repositionable eye covers. Their cushy memory foam creates a perfect light seal with any face shape, most face masks, and some BiPAP/ CPAP masks.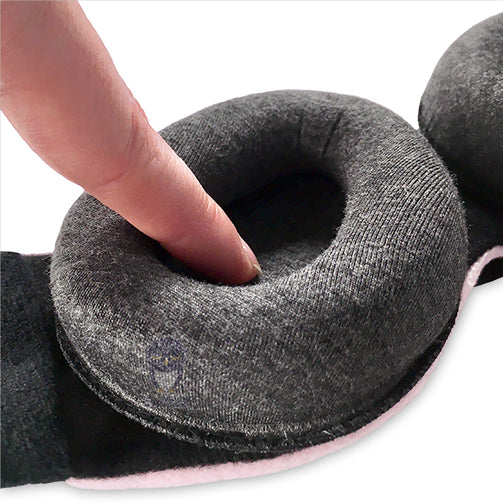 No Eyelid Pressure
Deep, 3D contoured eye covers allow you to open your eyes without touching your eyelids, eyelashes, common lengths of eyelash extensions, or smudging eye makeup.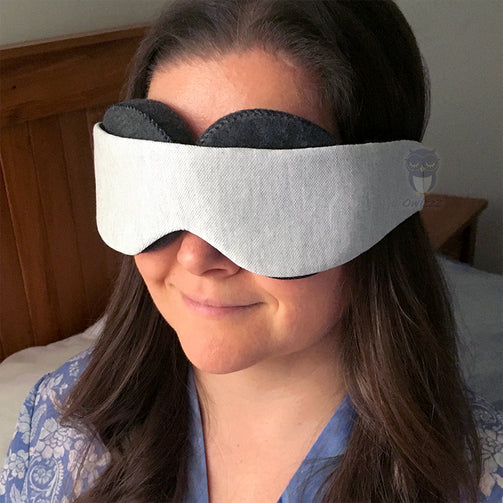 Soft & Comfy
Treat yourself to plush memory foam wrapped in soft jersey cotton, fuzzy velvet, and soft touch elastic. See extra comfort features for side sleepers, below.
Durable & Washable
Quality construction means OwlzzZ' eye mask doesn't fall apart in the wash like many memory foam sleep masks do. Thick, wide elastic maintains its tension longer, too.
Extra Comforts for Side Sleepers
1. All elastic, buckles, seams, and tags are on the back, so they can't press on your ears to wake you up.
2. Many sleep masks use a heavy, firm memory foam that shifts around and puts pressure on your face when you side sleep. OwlzzZ' eye covers use a lightweight, squishy memory foam that automatically flattens when you roll, maintaining the sleep mask blackout effect and creating very little pressure. A must for side sleepers and sinus/ headache sufferers!
I Want This
Not a Cheap Airplane Eye Cover: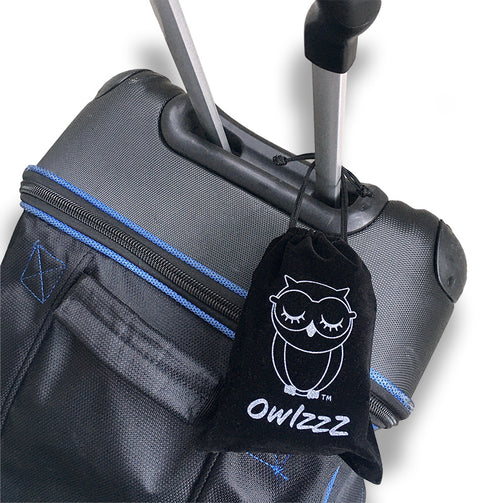 Free Travel Pouch
Possibly the only sleep mask pouch not made of mesh or plastic, so your eye mask can breathe AND stay clean during travel. Folds compact and ties to your carry-on handle to save space and provide easy access on airplanes.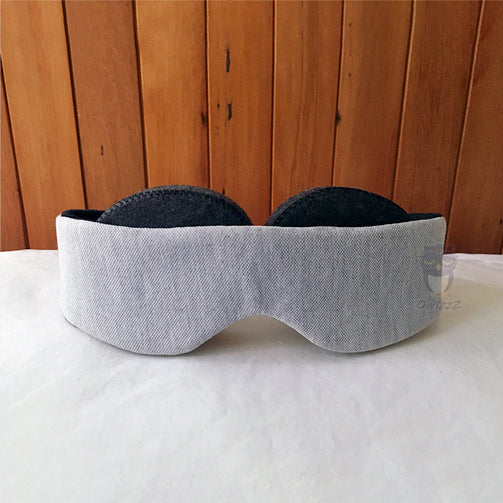 No Stains
Our colorfast materials won't stain your sheets or pillows, as we've discovered some sleep mask fabrics and elastics do.
No Velcro Strap
Velcro straps tangle hair, snag pillowcases, and loose their stickiness over time. OwlzzZ' adjustable elastic strap doesn't. And our thick, wide elastic holds its elasticity longer than the thin, narrow elastic in cheap sleep masks.
No Front Logo
Imagine sleeping on a plane where everyone will see your sleep mask. That's why we don't put our logo on the front! OwlzzZ' subtle logo tag is on the back and includes handy washing instructions, too.
Featured product
OwlzzZ Sleep Mask
Regular price

$35.00 USD

Sale price

$25.00 USD
OwlzzZ Sleep Mask provides a total blackout and comfortable fit thanks to its fully repositionable eye covers and adjustable elastic strap. This can help you naturally fall asleep faster, stay asleep longer, and reach the kind of deep sleep that leaves you feeling refreshed and energized.
USES: sleeping in bright rooms, night shift workers, travel, airplanes, hotels, camping, campervans, yoga, meditation, daytime naps, and bedroom play. OwlzzZ also works as a blind fold, eye covers, eye shades, sleeping mask, sleep goggles, and night eye mask.
CHOOSE from 2 colors for your mask front:
– "Black Hole", a black furry velvet
– "Sunrise Pink", a cool-toned light pink furry velvet
FITS: most teens and adult men and women with head circumferences of 20.25–26 inches (51.4–66 cm) measured where the blindfold is worn.
INCLUDES: 1 sleep eye mask, 1 travel storage pouch, card with tips for a perfect fit and washing instructions.
HOLIDAY SHIPPING: Please see our Shipping Policy for handling times and other details to help you calculate when your items may be delivered. Note our shipping warehouse is always closed on weekends (December 24 and 25), so they will be taking their Christmas holidays off work on Friday, Dec. 23 and Monday, Dec. 26.
See our FAQ for international shipping, fitting guide, laundry tips, demo videos, and more.
UPC/ GTIN: 195893805341 (Black Hole), 195893886104 (Sunrise Pink).
Choosing a selection results in a full page refresh.
Press the space key then arrow keys to make a selection.